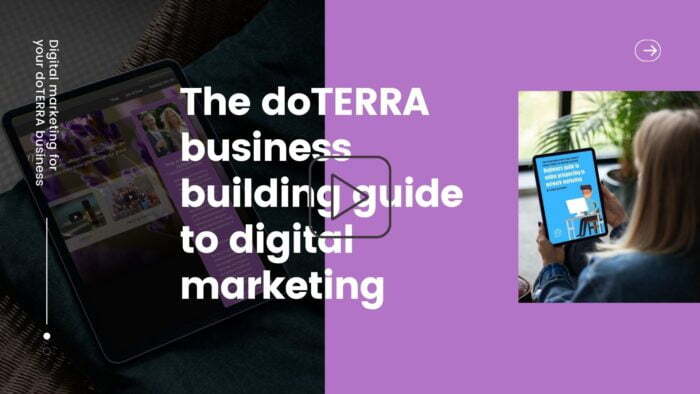 Is it possible to learn the skills required for digital marketing and use them in your doTERRA business opportunity?
Of course it is possible to learn new skills and build your doTERRA business online. Many doTERRA advocates have even learnt how to become a digital marketing specialist and use the same skills and knowledge in other areas of their lives. That is the beauty of learning skills that affect our lives everyday. Believing that the internet is only a bad influence on society while not seeing the positive aspects is like saying the invention of the wheel is responsible for all the car accidents in the world. Using digital marketing methods as a part of your doTERRA business building guide will change everything and make you the global player you deserve to be. But remember, the internet is simply a virtual extension of the physical world, so don't fear it, embrace it!
Skills needed for digital marketing in doTERRA
Some education and training is needed if someone wants to develop themselves and learn a new skill. I have never started a new job or career without needing to attend some kind of training and beforehand some other form of education. So, it is not surprising that running a doTERRA business online will need you to learn some additional skills.
On the positive side, many advocates have found that running a doTERRA business online is less stressful than the traditional method. Many argue that they are empowered by their own actions rather than concerning themselves with the actions of others. In addition, having a plan that can be worked on everyday does set a sense of achievement for those who find it difficult to structure their doTERRA business. Hence, a great reason to have a doTERRA business building guide that uses digital marketing methods.
Why does this doTERRA business building guide have a plan for you?
If you have ever worked for yourself before you will understand this mantra for success.
Take action, set goals, make a plan, work on it everyday until you succeed
This mantra works in whatever business you start including running doTERRA as an online business.
So, why is such a mantra needed, can't people just get on with their work and still succeed?
Arguably yes, but in that case they would have already succeeded in completing the first part, which is "Taken action". These types of people are already motivated.
How about the others?
An important issue is that many joining doTERRA have never run a business before. Even with the wisdom of a good enroller or sponsor, new advocates still find it difficult to know where to start. This makes it even more important that a new advocate has a solid plan that works.
Unfortunately, I hear far too many times from advocates that their sponsors are no help at all. They tell me that apart from their sponsors asking them to create a warm leads list there is not real practical advice. I personally believe that having the practical advice to build a doTERRA business is the most important information one can give a new advocate. They really need a plan and the skills implement it.
At the same time I have advocates that start their training, with the wrong attitude. Having a list of things they are NOT going to do is not a good starting point for any business, even an online business. This attitude is of course very frustrating if you are someone serious about running a doTERRA business. So, having a practical and informative guide in black and white does help the new advocate to understand how to become successful.
So, if you are someone looking for a practical guide to building your doTERRA business online I have a solution that works.
Do I need to be a doTERRA wellness advocate in your team to benefit from your training program?
The Simple answer is NO!
There is of course some additional benefit of being in my downline, but I wrote this network marketing automation eBook to benefit anyone in MLM.
The benefits of being in my doTERRA team
50% the price of the digital marketing eBook for MLM (Beginners guide to online prospecting in network marketing)
Additional tips and training regarding running your doTERRA business online
One on one training via Zoom
And much more
What is doTERRA?
If you have not really been in an MLM company before it is understandable that you have not heard of doTERRA. However, if you have worked in network marketing in the past, doTERRA is a common name.
So, for those of you who have no idea who doTERRA is:
doTERRA is a high end essential oils company founded in about 2008
The CEO is a person called David Stirling
Their main office is in Utah, US where many of the other MLM companies reside
Beyond essential oils, doTERRA offers a large selection of high quality essential oil related products such as personal care products, and supplements
Their products are highly sellable
doTERRA is a global company and so they are in about a 100 countries already
To get more information about doTERRA, their essential oils and their business opportunity click on the "Learn about doTERRA" button below.
doTERRA digital marketing eBook PDF
The whole of this article's main theme has been having a plan.
In this case, having a plan that is clear, understandable and works. These are the keywords, a "plan that works". It is totally useless having a plan that does work as much as it is to have a plan so complex that someone new to doTERRA would not understand it or even want to attempt it.
So, this is where my eBook comes in, because it is:
Simply
Understandable
Logical
And it works
My motivation for this eBook
My main motivation for writing this eBook was I found that there was a lack of practical information and guidance in running a doTERRA business online as well as network marketing businesses in general. I realized, after years of training my downline in other network marketing businesses, that recruiting family and friends was not sustainable. Most people new to doTERRA simply didn't want to speak to family and friends and if they did were very disappointed with the results.
This eBook gives you the information needed to connect you with people who are already interested and willing to build a network marketing business as well as doTERRA. Even though this sounds like a challenging task, this eBook does give anyone in network marketing the tools to become successful and a top money earner.
For the doTERRA rep working online it offers a passive way of selling doTERRA products and enrolling new wellness advocates into their team.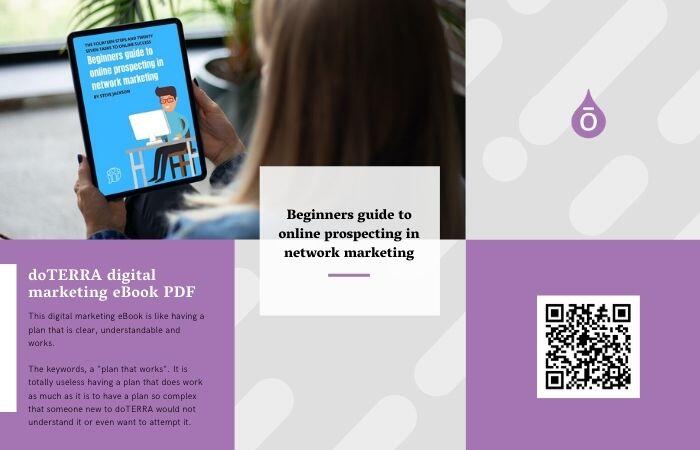 What are the challenges in training a new doTERRA wellness advocate?
The main issue for me when training a new wellness advocate is how we are going to connect their existing skill-set with the ones needed in network marketing and doTERRA.
Yes, doTERRA offers a vast amount of FREE training and eBooks about their products and some about running a doTERRA business, but in my opinion not enough practical and workable information and solutions that allows someone to get started from day one.
What are the benefits of this eBook?
There are lots of reasons for getting this eBook and running your doTERRA business online rather than the traditional way.
Here are my top six reasons:
Working to suit yourself is even more important when you work online because you don't need to work with others to get results
You are learning a skill that can be transferred to other businesses
Sharing doTERRA products and recruiting new people for your business using digital marketing methods is the most passive way available to the doTERRA wellness advocate
Unlike other doTERRA marketing methods, you are sharing your business 24 / 7 even when you are not working (The internet never sleeps)
You can educate yourself at your own pace
This eBook will always give you a place to refer back to when you feel overwhelmed with all the information
Why do you need more than the doTERRA business building guide?
Well, every business in the 21st century needs to be online. Yes, word of mouth advertising and relationship marketing methods have a part to play, but even if you contact everyone you know it will only add up to about 200 people. While alternatively, the internet offers an infinite amount of opportunities to reach out to people via a blog or social media platforms.
What is the role of your eBook marketing strategies for building a doTERRA business?
The main role of this eBook is to lay out a basic plan for running a MLM business online like doTERRA. I like to use the term the traditional method in reference building an MLM business meaning talking to family and friends. However, it is important to understand that building a doTERRA business online will still mean reaching out to people who have joined your business and sometimes people who have questions about doTERRA before they join.
Having a working online marketing system automates and takes the stress out of reaching out to people, but it doesn't build relationships with them. So, if a prospect wants to talk, take this as a sign that your system is working and start building a relationship.
If I am new to working online what are the minimum skills required for digital marketing?
Below I have written a list of skills that would be useful, but considering my eBook is for beginners the minimum skills required for digital marketing in doTERRA is being able to use a mouse and being able to read and write. However, personal development means the ability and the motivation to want to know more. So, the list below is just a taster of what is to come and what you should consider learning in the future.
Content writing and to set up a blog (In the eBook)
Learn about Search Engine Optimization (In the eBook)
Know about Social Media Marketing (In the eBook)
Have knowledge about Content Marketing (In the eBook)
Email Marketing (In the eBook)
What skill level is needed to run doTERRA online?
This eBook is for the total beginner. If you have no skills at all it is possible to develop your business online. This eBook will take the student through all the skills and knowledge needed to be a successful doTERRA rep online. The eBook comes in 14 steps and 27 tasks taking you through all the aspects of running a doTERRA business online. The final goal is to empower you to become a successful doTERRA wellness advocate online.
The doTERRA business building guide to digital marketing – Concludes
Even today I still hear doTERRA and network marketing leaders preach the same mantra of creating a prospect list and reaching out to their social circle. I do kinda get it, but I shiver with embarrassment when they do so.
So why do MLM leaders preach this type of mantra when many know it doesn't really work?
Because it is easy to understand and duplicatable.
Sadly, being easy to understand and duplicatable is great if it works.
I would argue that the amount of times that it doesn't work out-ways the times the traditional method does work. This in my opinion means it is not worth the time and effort someone needs to commit to make their business successful.
So, why is this eBook and marketing method better?
This eBook offers the best of both worlds. It is understandable and duplicatable and yes, it works and isn't that the point.
There are several buttons on this page that will give you more information about joining doTERRA or this digital marketing method as a part of my doTERRA business building guide. To get a preview of the eBook marketing tips for building a doTERRA business, click on "eBook preview" button below.