I am fascinated by all the innovations in crypto mining, this Sweatcoin review will share with you a simple way of earning cryptocurrency by doing something that we all do everyday.
If you are not walking you are either very ill, massively overweight or dead. For the rest of you an app that you can install into your smartphone will be a great asset, financially as well as importing your health and wellness. The idea that you can earn crypto while walking the dog or by going shopping is such a cool idea. I am surprised that nobody had thought of it earlier.
However, if you are reading this article you want to know if Sweatcoin works and is there any point in wasting your time installing it onto your phone. Well, I would say it is worth it.
Sweatcoin has already a reputation as being a quality application on the App Store and Google Play Store. The fact that these two app stores have this application on their platforms speaks volumes about the legitimacy of Sweatcoin. In addition, I have been reading some of the ratings on the review sites and app store and they are between 4.5/5.0 with many thousand reviews. This only reinforces the fact that a lot of users feel that Sweatcoin is working for them.
Are new crypto earning apps like Sweatcoin sustainable?
Well I would suggest they are, because the way we use mobile devices have become ever more the norm. All of our lives at one point or another will go through our smartphone. The most visible is the ability to use the internet, but also doing our banking, paying bills and sharing our lives with friends via social media. Cryptocurrency is a new reality and as so our mobile devices have become a conduit for new and interesting ways of mining and using cryptocurrencies in that realm.
Is using a mobile app for walking a new idea?
No!
Ever since the development of the smartphone there have been fitness and exercises apps integrated into your mobile device. A good example is Google Fit, which is an activity tracker, unfortunately, it does not offer any financial benefits. However, the template was already there. It was only the ideas and innovations of Sweatcoin that added a way of allowing everyone to earn an income from exercising.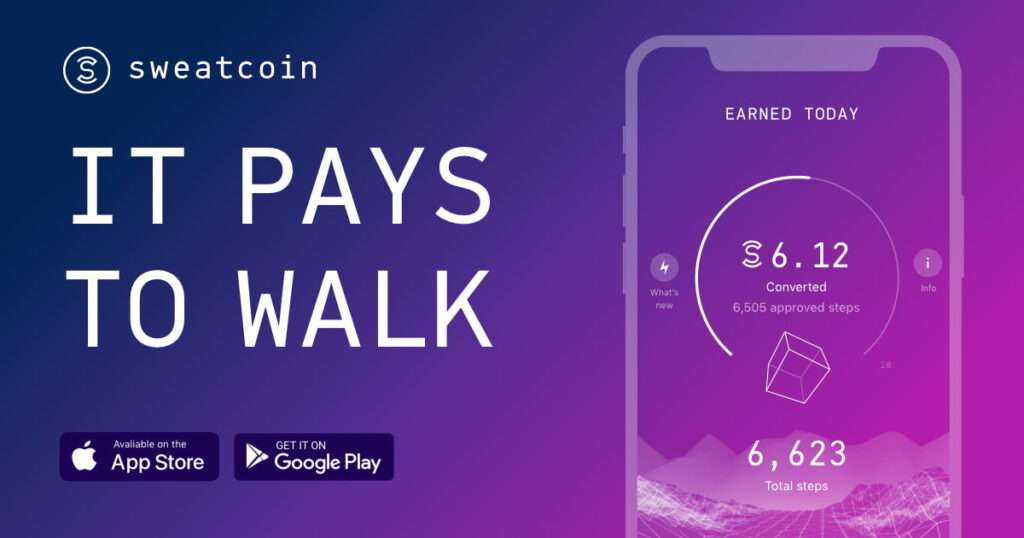 Sweatcoin review
The Sweatcoin mobile app rewards the user for walking and exercising in their cryptocurrency. So the more you walk and the more steps you take the more you earn. In addition if you are motivated there are a few adverts that can be read and daily bonuses to be earned. However, the main action is walking which we all do on a daily basis.
The app is FREE with restrictions or you can upgrade to the premium account. The free account is fine, but if you are working out everyday and walking a lot you may consider upgrading.
What I truly like about this app is that most reward apps are really quite unhealthy. They rely on you sitting and reading adverts or playing games which mean you will be sitting around and basically doing nothing. Sweatcoin on the other hand encourages a very different and healthier lifestyle. One that says maybe I could take the dog for a longer walk or take the stairs instead of the life or even walk to work rather than driving or taking the bus.
The additional benefits from using this app is a healthier body and mind, losing weight and of course some extra money towards a few luxuries in your life.
What can I spend the Sweatcoin currency on?
At the moment you can purchase electronics, sports gear, training watches, downloads, gift cards, fitness classes and much more. However, this summer (2022) they are generating a new cryptocurrency called "SWEAT". It will be available to anyone using their app. The launch will be the largest cryptocurrency distribution in history.
Every coin you mark with this app will convert into one SWEAT. This will give you access to the wonderful world of cryptocurrencies. Better still you will not need to invest a penny, but you will need to invest your time in walking.
Can I use this mobile app in my country?
Sweatcoin is available in most countries with some exceptions, so try downloading the app if you want to try it out.
How to be sure that each sweatcoin in my wallet converted into one SWEAT?
Note: To make it clear you will not lose any of your original coin when you receive your SWEATS.
Click here and download the app.
Create an account.
Open your apps Marketplace and go to Crypto and create a SWEAT wallet.
Start walking everyday
Keep in touch for when the SWEAT cryptocurrency will be available.
What is the best way to use this app?
Once you have the app on your phone, keep the phone on your person and start walking. It will work almost anywhere so if you are working on the treadmill at the gym or walking around the shops it will count your steps.
If you do about 1000 steps it will earn you about 0.95 SWC. The FREE account will only allow you to earn 10 SWC from walking, however, it is possible to earn more coins by reading ads, doing tasks and sharing the app with friends.
Sweatcoin Rewards
Below is a list of the possible ways of earning coin on Sweatcoin:
Walking: 1000 steps is 0.95 SWC
Brisk 20 minute walk: 5 SWC
Invite friends and family: 5 SWC for every referral (Once you have referred 30 people you become an influencer, this allows you to convert your coins into dollars)
Daily offers: Everyday there will be daily bonuses such as watching videos and clicking on ads. The amount of coins varies depending on the task.
What is the Sweatcoin exchange rate?
The exchange rate changes all the time so this will be the rate from the time of writing this article.
20 / 31 SWC = $1
However, if you are an influencer you will get a far better rate where 4 SWC will get you about 1 USD
What are the pros and cons of this app?
Pros:
A get paid for walking app like this will not make you rich but it will make you healthy.
You can easily make a little money from this app.
It is very easy to set up and use.
The app counts the steps you do indoors as well as outdoors.
You can send SWC to friends.
Sweatcoin is involved with organizations such as the NHS (National Health Service) in the UK, Save the Children and many more.
Their goal is to help us all to become +20% more active and less reliant on the local health services.
Cons:
The app runs in the background so you may notice your battery drain faster. (I personally have not noticed)
The app is tracking your movements, but I am guessing that most people know that already.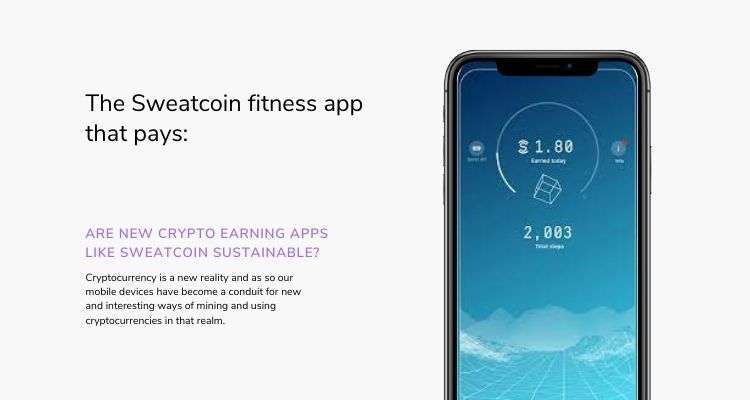 Conclusion
This is a great app that integrates a few of my favorite things such as being healthy, being active and earning some crypto at the same time.
If you are already very active and you upgrade to premium you are likely to make some serious money. However, even if you are just doing a few 1000 steps a day you will be pleased with the results and the benefits it will bring to you and your family.
The most exciting aspect of Sweatcoin is it moves into real cryptocurrency in the summer with the coin called "SWEAT". This will mean that if you already have a nice amount of coins in your wallet you will receive one for one. So, those of you who are very active could be making a killing this summer.
Finally, Sweatcoin is a lifestyle app that will benefit you and your family by making you move more often than you ever would normally, which is great. I have been using this app for a short time and already have over 500 SWC and already considering upgrading. The fact is that this app is FREE and it will make you happier because you will be healthier. I can see no real downside to this app unless you are unhappy about being tracked or for some your battery is running down slightly faster than normal.
For more information about this Sweatcoin review article, click on the "Learn More" button below. If you have enjoyed reading this post please like and share it with friends.