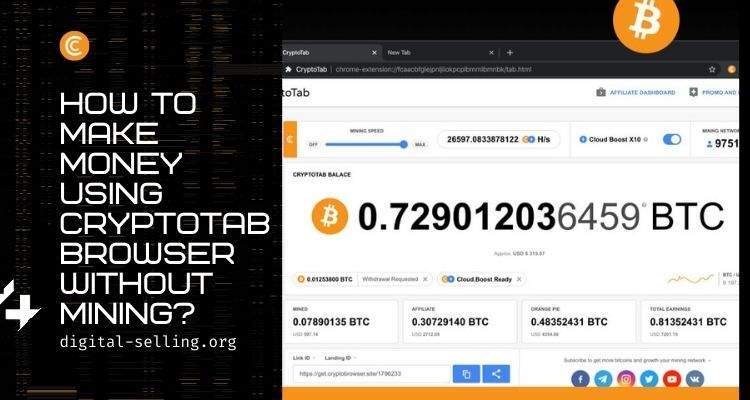 Learning how to make money on CryptoTab browser you need to understand that you will NOT make money solely from mining, resolve that and the possibility of earning a passive income can be achieved.
It is clear that the point of using the CryptoTab browser is to earn a passive income while browsing the internet. That is great, however, the main issue is that the Bitcoin price would need to be vastly higher before there was any point in only mining.
At the same time if you want to earn a small amount of Bitcoin while browsing the internet go ahead. It is simple and easy and you only need to download the browser and start mining Bitcoin.
For those of you who just want to try earning Bitcoin you can download the FREE browser on the button below. However, if you want to learn how to earn more in CryptoTab, please read on.
How to earn more in CryptoTab browser
From my conversations with other CryptoTab users they cannot make enough money from browsing. However, once you understand how CryptoTab works it is easier to make a good passive income. CryptoTab has much more to offer as a way of making money in addition to mining by browsing the internet.
These include:
A very lucrative affiliate program.
Using your mobile device for mining.
NFT mining.
Bitcoin farming using unused computers, laptops and Bitcoin miners.
Mining pools.
Out of all of these the most passive and lucrative is the affiliate program. Arguably the affiliate program allows you to build your own mining pool going ten levels deep. If you have ever run an MLM or network marketing business you will understand what I am talking about.
A network normally refers to the marketers downline. This is a term used in network marketing to describe the affiliates who work under another affiliates. For example, if affiliate Jack joins CryptoTab and adds five new affiliates under him, these people are now in Jacks network or downline.
The main difference with the CryptoTab affiliate program is that you do not need to build a relationship with your downline because like crypto your affiliates are anonymous.
The key to creating a passive income using the affiliate program is to invite others to join your network using your personal affiliate link. Once someone has joined your downline you can earn 15% of your first level miners activities in Bitcoin. As you may have notice from the graphic below, the affiliate can earn 10 levels down.
This is not the most exciting aspect of the CryptoTab affiliate program. If you refer to the chart below you will see that if you enrol 5 active miners you could get a monthly income of about three dollars a month. However, as your downline begins to build their own networks, also your income will grow exponentially to as much as forty thousand dollars a month. That is not a small amount of money and massive motivator to learn how to make money using CryptoTab browser and sharing the affiliate program.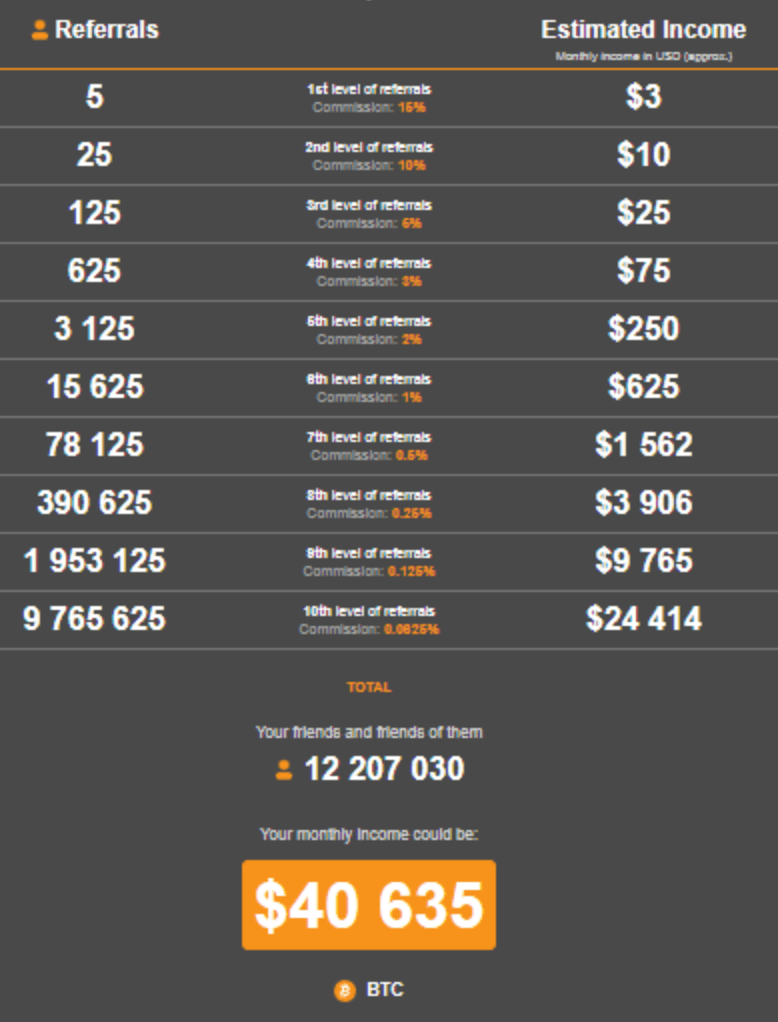 Note: These incomes shown on the graphic are not guaranteed. Work is required by you and others in your network.
How much can I earn through CryptoTab affiliate program?
There are many ways of promoting your affiliate program such as sharing your affiliate link on social media platforms. However, regardless where you share the affiliate program the best results come from sharing it with like-minded people. This means sharing your link on Cryptocurrency Facebook groups, LinkedIn Facebook groups and even MLM Gateway that has a large community of crypto enthusiasts.
Yes, social media are a great platforms for sharing the CryptoTab affiliate program. However, from my experience blogging seems to have the edge over social media. This is because the blogger has far more control of their content and more power to share the information they want. However, skills and knowledge are needed to be a successful blogger. Once you have learnt these skills you will be able to get your content in front of prospects.
The amount of money you will earn will come down to several factors, such as:
How much you are willing to work.
How much you are will to learn.
How much people read your blog posts.
How to use blogging to share the CryptoTab affiliate program?
The ability to understand how to earn more in CryptoTab means thinking out of the box.
The main issue for many new bloggers is that they don't fully understand how to do it. Simply creating writing content and then sharing it on their blog is not enough for your content to be seen. So, understanding the best method will be a direct correlation to how much you will earn.
There are a few eBooks that I have found have helped the blogger build their CryptoTab affiliate business. The best one is by Steven Jackson called "Beginners guide to online prospecting in network marketing". I understand that it is a work manual for the online network marketer, but it does offer a system that works with CryptoTab.
How do you earn faster in CryptoTab?
Even if you have already decided that the affiliate program is the way to go, being able to get the best out of your mining will be a benefit. So, having the knowledge on how to make CryptoTab mine faster is a skill that will triple your income in less than 15 minutes.
Tweaking your PC and browser to release more Bitcoins is a relatively easy process. However, the first thing to do is to download CryptoTab and install onto your computer and start mining. Once you have started mining write down the best mining speed H/s without making any tweaks. It is good to know how the improvements have influenced your mining efforts. With these simple tweaks you are likely to get between 50-75% extra Bitcoins from mining Bitcoins on your browser.
Conclusion
If you really want to start earning some Bitcoin from home, CryptoTab is a good place to begin. However, if you want to make some real money then you need to commit to the affiliate program. This will allow almost anyone to create a passive income from home.
One thing I have forgotten to mention is that the CryptoTab browser and the affiliate program are 100% FREE. So, getting started means downloading the browser or mobile app. From then onward you can start mining. Then start sharing and promoting CryptoTab with others so your mining network grows.
So, is CryptoTab browser worth the effort?
Yes! Without a doubt.
If you are willing to put in the work at the start and not depend on the mining alone. In that case CryptoTab will give you the income you desire.
For more information about how to make money using CryptoTab browser click on the "Learn More" button below.