The stark reality is that MLM recruitment is difficult, but the light at the end of the tunnel is that the internet has given many of us the opportunity to succeed, so how to we do it?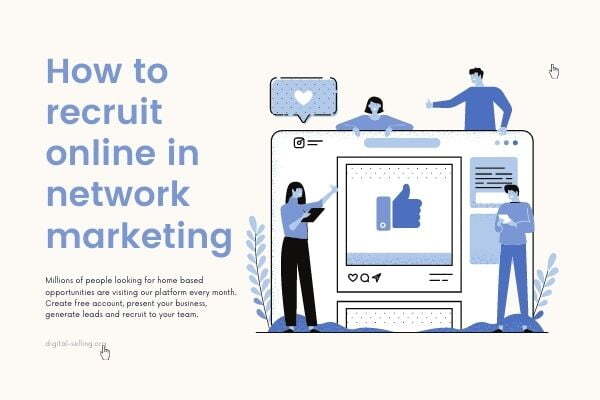 The global recession is making people ask themselves, "what can I do more to preserve my future?"
Many believe that cutting household costs is the solution while other believe that working more hours is the key. However, more and more ordinary people like you and me are opting to start their own home based business as a network marketer. The main reason for starting a MLM business is because it is simply to start and very affordable. The main hesitancy for not looking at MLM as an option is the recruitment aspect. Most new to the industry do not want to recruit family members and friends or in fact anyone. For many the rejection is too much. However, the internet has given us the solution. We can now through various online marketing methods and services build our network marketing team passively.
How to succeed in network marketing online?
The basic idea of network marketing regardless if you are working online or not is to build a network of buyers and sellers. The main benefit to the online method is the size of the customer base. Nevertheless, that doesn't mean that running a MLM business online is going to be easy. Working online means being online and being online means building website, blogs and getting a domain name and so on. This is the main reason why many do not bother.
Or is the an easier way?
Top online recruiting tips for network marketing
Finding real people who are interested in your business and products is a challenge. So, below I have put my list of the most effective ways to recruit the right prospect for your team.
These tips will help you generate hundreds of leads and build a lucrative MLM business.
MLM recruiting leads system
Having a effective lead generation marketing strategy is vital for there to be any chance of success in your network marketing business. An analogy like like to share is to imagine you are flipping over an infinite pack of cards. You are not sure when you will flip over a joker, but you know it is in the pack somewhere. The should be you recruitment mindset, because the internet offers you millions of prospective business partners for your business. Your goal is to find them. So, it would be a great resource if we could find a method or system that allowed us to contact leads that were already interested in our MLM business.
Effective MLM recruitment
Having a effective recruitment method that targets the people interested in your business and passionate about MLM overall is the key to a successful recruitment campaign. The main issue is finding the best places to prospect for recruits. Yes, the internet has millions of prospects, but how do we attract them to our business rather than someone else. There maybe an argument to advertise on Facebook or simply share your business on Linkedin or Twitter. In my opinion, the best option would a portal where network marketers could come together and discuss and share their businesses and ideas. This would allow most people new to the industry to have a better chance of enrolling a component professional rather than recruiting family and friends.
Advertising your MLM business
Advertising your business needs to be understood in the context that not everyone will be interested in your business. This means that it is never more important that you know your target audience. In general, a target audience may share similar demographic traits, which may include:
Age
Gender
Location
Education
Socioeconomic status
On the other hand, the target audience in MLM may have some unique aspects to define. They are simply different to other business professional that exceed the list above. They may include:
Other network marketers
Affiliate marketers
Online marketers
People that are interested in using your product or service
If you can identifying your target audience and are able to guide them to your business opportunity website you have a far better chance of building a successful MLM business. Returning to the same issue of recruiting your target audience. Having a forum that network marketers, Affiliate marketers and Online marketers hangout would make a massive difference to your business. So, having a target audience to hand would be an asset to anyone running a network marketing business online.
Content Marketing as apart of your MLM recruiting system
For those who are not sure what content marketing is in the context of MLM. It is a marketing strategy focuses on creating written, graphics, video, eBooks and other digital things online. The main concept is to create and distribute valuable, relevant, and consistent content to attract a targeted audience. The bottom line it means creating Create engaging content that people want to read.
This type of marketing needs a blog system, a host and a few other tools to get started. However, it is very effective method of attracting thousands of visitors by simply publishing a written article. However, there is a lost of work involved and targeting the right people is a job for an SEP professional. The solution would be to create content on a shared forum where other network marketers reside. They then could will read your views, reviews and opinions and then join your business.
This is a marathon not a sprint
Once a committed marketer learns how to recruit MLM distributors they seem to want to use multiple marketing strategies. They see their business growing and they want to see it growing fast, which is expected. However, there strategy should be to streamline and simplify their business and do what works. Otherwise they may begin to confuse a new prospect and customer.
The power of social media in Network marketing
Lets be honest, social media does not have a great track record on social media apart from maybe Linkedin. Yes, social media platforms have the traffic and a wide audience, however, the big problem is "SOCIAL MEDIA PLATFORMS HATE MLM!". The only real and effective method is creating Facebook pages or groups and don't spam too much. Of course, it is possible to have discussion, but this is very time consuming. Frankly the whole point of working online is so we don't need to have long discussion online. However, on the fringes of the social media platforms the is a place that gives a lot for freedom to the network marketer and allows them to share their MLM business, write content about MLM and contact others interested in the business. For more information click on the "Learn More" button on this page.
Global reach should be apart of your MLM recruitment plan
There is an argument for joining a company that is completely international and without borders. They are generally means a digital or online service company. Of course, the downside is even though some third world countries may have the desire to start a business, they don't have the money to start one. Nevertheless, there are a few FREE business available online and worth considering if someone anywhere is on a tight budget.
Join for Free – No Credit Card Required
Being consistent in your MLM business
Consistency is a major key to success regardless how you run your business. I cannot stress enough that creating one piece of content or sharing your business once in a while is not going to make your rich. The more content you share, the more people will read your content and start reading your other content. This may attract comments and new prospects to your business. So, work on your business everyday.
MLM recruitment never stops
Fortunately, the newer MLM companies retention rates are quite high. However you should consider your job to be recruiting as many new members as you can. That makes it even more important to engage anyway you can with prospective candidates. There are many methods, but the most commonly used is:
Word or mouth
Social media pages and groups
Blogs and websites
Lifestyle forums
Live events
MLM niche social media portals
You should have a presence in as many of these forums as possible as well as telling people about your business.
Offer an MLM newsletter service
Having a newsletter service allows you to send email blasts and updates for your latest product or company update. This will keep your existing partners and prospect engaged. Even if they are not in your business yet, they maybe in the future. If you create valued newsletters that are informative your prospects may want to engage with you in other projects that you have yet found.
Learning, growing and developing
The world is changing and internet marketing methods are developing also. This means that there will always be a need for reeducation and growth. So don't stop learning and finding new ideas and methods to build your MLM business. I personally check out new marketing ideas and methods all the time, some work and other not so good, but your marketing strategy should include using any method to reach out and learn as much as possible.
An eBook I would recommend for someone new to working online is the excellent and practical book by Steven Jackson called "Beginners guide to online prospecting in network marketing".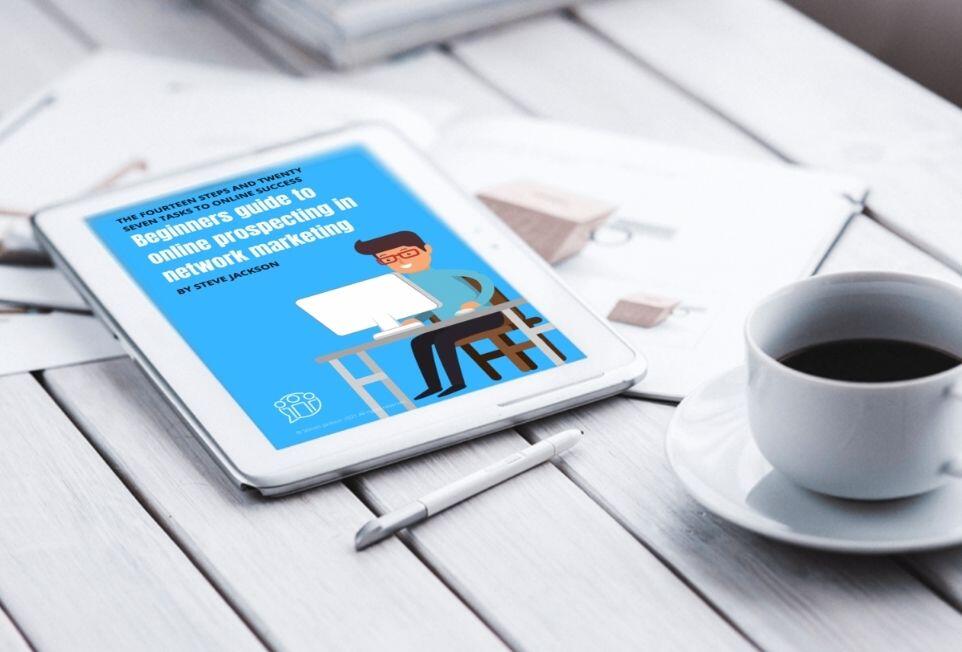 The role of this eBook is to lay out a basic plan for running a MLM business online rather than using the more traditional methods such as reaching out to family, friends and colleges.
To help the total beginner to build an MLM business online this eBook will take the reader through all the skills and knowledge needed to succeed. The eBook is broken down into 14 steps and 27 tasks with subject ranging from keyword optimization, content writing and building a warm leads list. The final goal of the eBook is to empower someone new to the MLM industry to become successful by having a plan that works.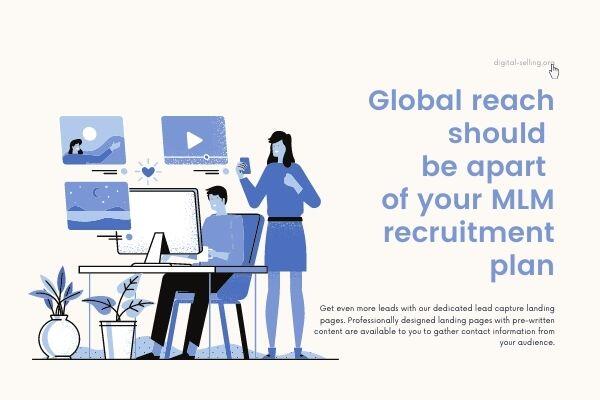 Conclusion to MLM recruitment online
Building a MLM business online needs significant amount of dedication, time, and patience. Sadly, you won't knock the ball out of the park everyday of the week, but you will have good days and bad ones. So, don't despair, because the most successful were not successful over night.
For more information on how to recruit online in network marketing, click on the "Learn More" button below and add your name and email address on the form. We will get back to you with a FREE recruitment system where MLM recruiting done for you, well almost.