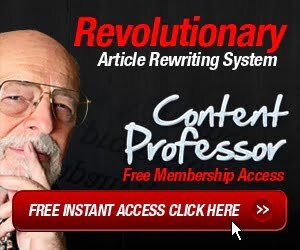 The new Content Professor is much more than a small SEO tools article rewriter. It allows you to take and modify content quickly,
then make it your own, all FREE from your house, work, office or phone.
Private Label Rights Search Engine
1) Massive PLR Search Engine
With a searchable database of 100,000 PLR Articles, Content Professor brings Google Panda style searches to reusable/PLR content.
Easily find, import, spin and use content in mere seconds.
Free Online Article Spinner and Cloud Thesaurus
2) 100% Free Web Based Article Spinner & Rewriter
Thousands of people use Content Professor, the leading online article spinner & content rewriting tool.
Easily use with Mac, Windows, Linux, or your favorite Browser.
Check Duplicate Content - Detect Plagarism
3) Online Duplicate Content Checker
Evaluate Your Work or Protect Your Search Engine Rankings From Duplicate Content & Online Plagiarism.
Easily check uniqueness, and target duplicate content between any two articles in an instant.
To find out more click on the Learn More button below
Learn More