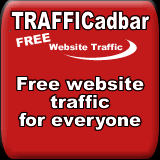 Traffic Ad Bar belongs to the Traffic exchange system and sends visitors and referral links to your website. Traffic exchanges when misused can lead to a disaster. Like any other traffic exchange service, you view other member sites to gain credits. In Traffic Ad Bar the credits do not automatically turn into views.
Traffic Ad Bar has a Ladder system that will determine how much Traffic you get to your site. It compares your credits with other members credit.
Traffic Ad Bar is in operation since 2009. It has made mostly positive impressions. There will always be some people who will say Traffic exchanges are bad, but they do have pros and cons. I used it, in the beginning, to sign up for Affiliate programs that only let you only join with a certain amount of traffic.
Free
Learn More