Over the years I have been asked what the best small business to start and I always say the same thing and that is anything in the direct sales industry including MLM and network marketing.
The main issue for those new to the direct sales industry is that there is just so much information about it. All the time there is another up and coming MLM businesses out there that it makes it almost impossible to know who to trust.
From my research most people who are interested in running a home business want to know one thing.
What is the most successful home based businesses available today?
Where do I find the top money making businesses in the MLM industry?
You need to choose a MLM company: Before you join a company, you need to look at the compensation plan, product and leadership.
Assess the product line: The product is obviously what the company is selling. Try to avoid online products like eBooks or training videos. They just don't sell as well as offline products do. Look for a physical product and make sure that they appeal to everyone. If your MLM company's product doesn't appeal to most people, you will have a hard time recruiting people into your company.
Research the compensation plan: Always look for a compensation plan that pays out short-term money as well as long-term residual income. Residual income is what you want to build up to over time to pay you for the rest of your life. While building up that long-term monthly income you want upfront fast cash.
Be sure your sponsor has leadership skills: Always look for a company with great leadership. You want to look for a strong group of people to join with who have a strong vision for the company.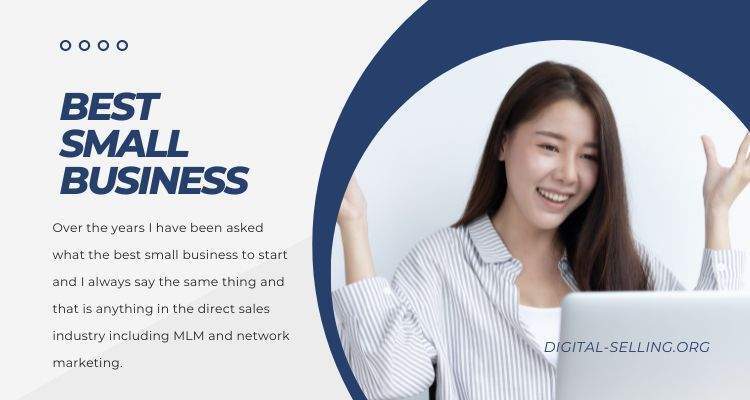 Once I have joined an MLM business what should I expect?
Develop marketing skills: Once you have found in your opinion the best small business to start. It is time to develop and train yourself in the skills needed to become successful in MLM. Most good companies will offer training and tools to help you develop your own system. However, over time it is good to develop your own style. I personally run one on one training with all of my new distributors to help them start their business in the right direction. To streamline my training method I have written an eBook called "Beginners guide to online prospecting in network marketing". The eBook allows my team to educate themselves independently as well as sharing this information with their own downline. Click on the button below for details.
Training and recruitment: The first stage is to do your membership and business training overview with your sponsor. It will be far easier to understand how to recruit or sponsor people yourself once the training is complete. Sponsoring can be done either offline such as personal contacts or online such as blogging or landing page sponsoring. Refer to eBook download for details.
What is the best and the most successful home based businesses available today?
From what I have found, there is only one company that gets return customers with a high retention rate of 70%. The product line is based on therapeutic grade essential oils and related products and is a part of the ever growing MLM wellness industry.
What is this company called and why is it the best small business to start?
The company is called doTERRA and they have the all the requirements that allow them to have the respect of the direct sales industry. This has defined them as one of the top money making businesses in the world:
The customer base seems to be limitless and existed about the products. Many customers go on to become doTERRA distributors because they realize the unlimited earning potential.
The product presentations are based on an educating format so the customer simply samples the oils in a relaxed and chilled atmosphere. The concept of distributors creating a hype is not done that many other MLM businesses do.
doTERRA essential oils and related products are something people would and do pay money for everyday. In fact most doTERRA members are retail or wholesale customer.
doTERRA leaders only account for about 7% of the membership. This leave a massive opportunity for those interest in running a home based business.
The startup fee is just 35$ which includes Free webshop, Free back office and No monthly fee.
All doTERRA wellness advocates (distributors) and wholesale customers get 25% off all doTERRA products.
doTERRA has a very high retention rate of 70% which is one of the highest in the industry. This means a lot of return customers.
doTERRA is debt free with no outside funding.
And most importantly doTERRA is a stable and reliable business.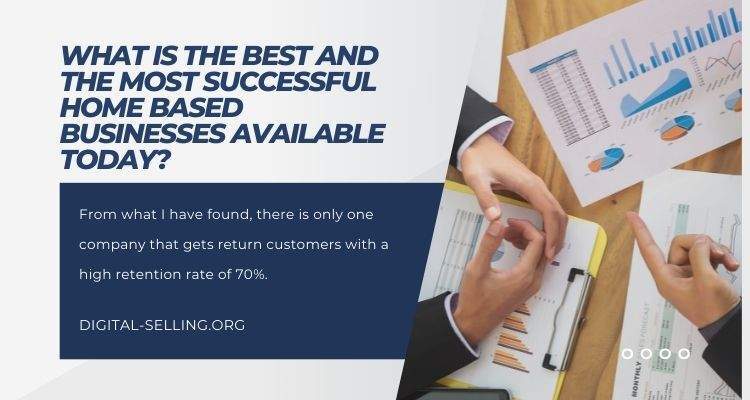 So, you are saying that doTERRA is the best and most successful home based businesses available today, but is there a catch?
There is no catch, however, there is one element missing from this article for anyone wanting to become really successful.
This includes any MLM business including doTERRA.
It doesn't matter how good the products are or how great the business opportunity is, the cold truth is many MLM distributors are doomed to fail. The main reason is simply down to not taken action.
Even though buying top money making businesses are a solid commitment it is not enough. If an individual wants to change something in their lives, work is required. That means committing oneself to take action for the next 12 – 24 months on a daily basis.
Is there a way of improving someones chances of success?
Even though direct sales, MLM and network marketing rely somewhat on building relationship I advise avoiding joining family or friends unless they are a leader already.
Find a leader!
The key to success is to find a knowledgeable leader who can offer you guidance. Once find a veteran leader who can show you through this necessary process, there is no limit to how far you can go in your doTERRA business opportunity.
If you are interested in starting a home based business with doTERRA. Then you need to join the most successful home based businesses available today.
To join doTERRA click on the "Join doTERRA Now" button below.