Having a good online selling marketing strategy for your MLM business takes no explaining, but can anyone utilize the limitless resources of the internet or is it just for the internet gurus?
The list of possibilities for the network marketer is endless when they commit to a digital marketing strategy. Yes, I know it sounds heavy, but it really isn't. Most of us are using online marketing tips and tricks already without even knowing it. The main problem is when we are doing some social media marketing we don't know if it is working. So, we return to marketing our MLM business the tradition way.
The main issue with the traditional marketing methods in network marketing is the long and lengthy process of bringing people into your business. In most cases we need to make first contact and then the dreaded follow up. Apart from the challenging conversations and the knock-backs the success rate is also low.
The positive aspect of the traditional MLM method is the personal relationships. They are built during the prospecting and enrollment process and there afterwards. This does create a strong bond between the MLM leader and their new team member. However, I would argue that this still does not resolve the issue of recruiting and selling our products.
We as individuals do not always have the social circle or the personality to even recruit even one person into our business. Selling some products to our social circle maybe easier, but again inadequate for anyone serious about making money. This creates a massive impact on the success and failure rates of running a MLM business. This shouldn't be the case because MLM has so much to offer for almost everyone who wants to succeed.
What are the main reasons for failing when using traditional marketing strategies for MLM?
No leads: Every business needs leads regardless if you are a flower shop or a dentist. This is no different for a MLM / network marketing business.
Not willing to learn new things: Education is the key to success for almost anything. Again running a MLM / network marketing business is no different. If you have never run a MLM business before some new skills and knowledge will come in useful.
Lack of consistency: Daily actions are an important key to success. You wouldn't open your cafe or shop when you fancied and nor can you in MLM. It is your business so treat it like one.
Not willing to build a relationship with your prospects: Building that relationship has a vital role to play with your prospects. People want to work with someone they like and trust. The product, business plan or the company is secondary to who you are.
Lack of leadership with your team members: Being a leader is an important aspect for a prospect and team member. They need to believe that you can show them the way forward and have a system or method that will get them there.
In addition, many new members lose the motivation after a few knock-backs as well as forgetting or simply not wanting to follow up with prospects. Traditional marketing strategies for MLM are simply not sustainable in the long or even short term.
Consider for a moment, we have about 200 people in our social circle. That sound a lot, but out of the 200 maybe a handful will get back to you. At the end of the day, one person may buy your products and one may join your business. I am not saying you should not try to use your family and friends list, however there is over 3 billion people online. The odds are that someone within that 3 billion will be interested in working with you online.
How does online marketing strategies for MLM work by using the list above?
All is not lost, because everything on the list above can be transferred to an online method. So, on the list below I have put my digital media strategy checklist of the main ways that traditional methods can go online.
Making leads online: Even your local flower shop and dentist is using the internet to create a customer list. MLM is no different, so by creating a dynamic blog or landing page with a autoreply system you are building a list without even speaking to a prospect
Learn new skills online in your own time: There are many useful eBooks and websites that explain exactly how to build a MLM business online. My top recommendation is "Beginners guide to online prospecting in network marketing" by Steven Jackson
Developing online consistency: As in a normal business as well as a traditional MLM business method daily actions need to be taken to achieve success. Unlike the traditional MLM actions, that for many are time consuming and stressful. Online innovative marketing strategies allow you to write a blog post and then know that your content is working for you 20 / 7. That means even when you are not writing more content you are still connecting with prospects via your blog or website.
Building a relationship with your prospects online: I would agree that building an online relationship with a prospect is problematic. However, technology today has made it very easy to Zoom, Skype or Facebook live anyone globally.
Leading our MLM team online: Again referring to how technology has advanced. My preferred method is running one on one Zoom chats or group podcasts. Both methods allow your team to see and hear how confident and informed you are.
In addition, having an online selling marketing strategy allows you to avoid the dreaded family and friend recruitment.
What is wrong with asking family and friend to join my MLM business?
Unfortunately, in most cases family and friends will be the least supportive of your new business. Yes, I understand this is sad, but this is the reality for most of us. That is why having online innovative marketing campaigns and systems will help you share your business with people that are interested in your business and products. The main difference is that you will be sharing your business passively rather than aggressively.
How are online innovative marketing strategies created?
I can recall starting my first MLM business and realizing fragile my social circle was. They were not going to be interested in buying my products or joining my business. My sponsor at the time explained that I needed to enroll three leaders rather than just three people that just wanted to join my business. As you might have guessed, finding a leader is harder than you can imagine.
What is a MLM leader?
A leader is a rare individual so when you find one, keep they real close. You will know when you have found one because:
It is someone who is business minded
A self starter
It is someone able to lead others so they are also successful.
Unfortunately, leaders who are interested in joining an MLM from your social circle are quite rare. So, from that point in time, the penny drops with a clang.
I need to reach outside our social circle to have any chance of success in MLM
Outside is a big place. So how does someone find anybody outside their social circle without hopping a plane and flying there? Of course, the internet is one of the best marketing strategy solutions in the world.
However, is it the solution for everyone?
Can anyone learn how to use an online selling marketing strategy for their MLM business?
There is no reason why not.
The main issue for most people looking at building any business online is "do I have the skills and knowledge needed?" This means that you are going to need to learn something new. (refer to the list above)
I have already referred to an eBook that should give you all the information you will ever need to build a MLM business online. The reason I am suggesting the "Beginners guide to online prospecting in network marketing" is because it is not just an eBook that tells you what to do. It is task based eBook that takes the reading through easy and logical steps. Each step asks the reader to complete tasks that will get them closer to the goal of being a successful online network marketer.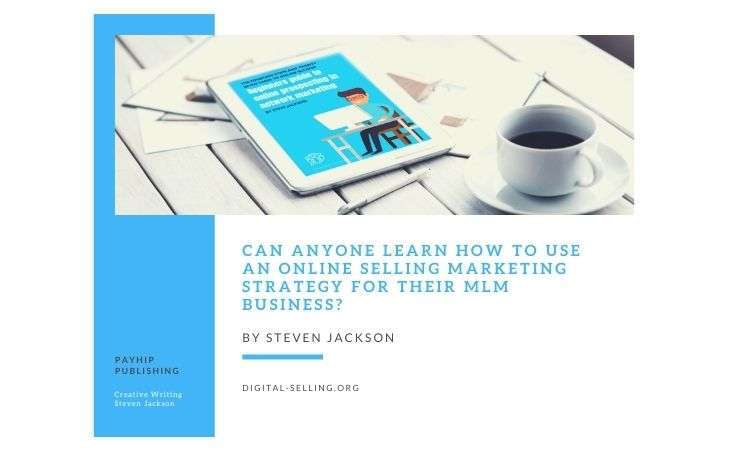 What type of skills are needed for a successful online selling marketing strategy?
Below is one of the top marketing strategies for small businesses such as MLM. Even though there is always more to learn, these seven will send you in the right direction.
Finding your niche: There is so much content online that it is important to find the niche that fits you.

Do you know what your niche is and if now how to find it?

Create your MLM blog: Blogging is the most powerful way to share your ideas and MLM products online.

Do you know how to set up a powerful marketing blog?

Understanding SEO: Using the SEO method on your website or blog will be the difference between success and failure.

Do you know how to optimize your content for the internet?

Writing your first article: Still today the written word empowers and educates. Do you know how to create an article that Google will regard as worth indexing on its search engine?
Keyword planning: The words you use in your content are important.

Do you know how to find the right keywords that will put your blog in the top three places in Google?

Optimizing your article: Knowing where to put them in your article is as important as finding the right one.

Do you know how to add keywords to your content?

Using an autoreply service: If it can be automated it should be automated.

Do you know how to integrate an autoreply system into your blog or landing page?
These are just a few things that really work using a creative marketing strategy. The hard bit is that the online network marketer needs to learn these skills to build a MLM business online. On first reading the subjects may seems complex and difficult for some. However, believe me when I say the instructions are set out with the beginner in mind.
The great thing about learning new skills are that they can be passed on and transferred into other careers. These may include web design, content writing, affiliate marketing, e-Commerce and social media marketing.
If you would like to run your MLM / network marketing business online using innovative marketing strategies that work. Click on the "Learn More" button below and find out more.