It was a dream of mine ever since the concept of working online came into existence. The idea that I could be online and remote nomad working wherever I pleased was intoxicating
I was doing a dead end job with no prospect to be more than I was. Life had become a drag and my only rest bite was the weekend when I could let off steam. My first touch with internet marketing was in the early days of the internet. None of us really knew what we were doing, but as long as we offered value and shared our product everywhere we could make enough money. I recall joining a network marketing business and sharing everything online with great results and the phone call from the company strongly suggesting to stop running the business online. Fortunately, for the internet nomad things have changed and most of the better network marketing and direct sales companies allow digital, internet and social media marketing. This allows people like myself to live and work wherever we want and gain the benefits of working a few hours a day as long as we have a WIFI connection and a laptop.
What is an internet nomad?
There are various names for this profession, but internet or digital nomad are the most common. However, I have even heard virtual nomad used a few times.
The main definition is that we work on the internet, while using digital methods and travel at the same time. We may stay at one destination for longer than normal, but the point is to enjoy new experiences while making money. I have found that I return to places that worked for me in the past. For me, this is an amazing way of living where we can be financially independent while travelling the world.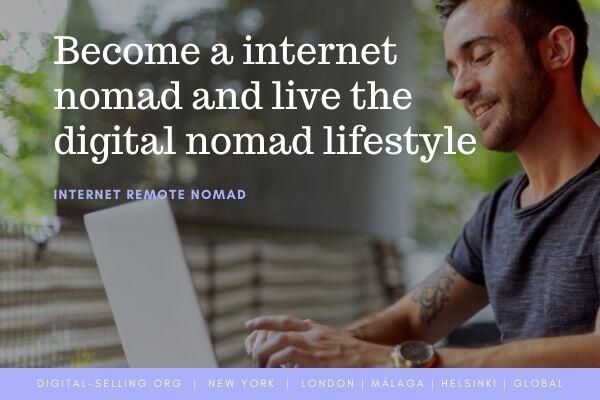 How easy is it to become an internet nomad?
Working as a digital marketer and being away from your comfort zone of family and friends is a lifestyle rather than a job. In fact you may not even know that you are one until one day someone mentions that you do digital nomad work. It may have started from a gap year trip when someone suggested that you could make money writing content. At that point in time you started to learn digital marketing skills that would take you into the future of travelling and working online. This doesn't mean that you are rich or you can stay in the best hotels, but you are making a modest living online that will keep you in cheap beer, food and accommodation for the foreseeable future.
What digital skills will I need to be a remote professional?
Sadly, we can not work online without learning new digital and internet marketing skills.
It doesn't matter if you want to sell drop shipping products, digital, network or affiliate marketing products or even become a blogger the possibilities are endless. This should be the time that you start to understand the power of the internet and where your life will change in such a short time.
So, ask yourself:
What and where does your existing digital and internet skill set stand at the moment?
Will your existing skill set compliment an internet business?
What are your main passions in life that can be monetized into a digital business?
How much money do you feel you can invest in a business?
Once you have answered these questions you will start to visualize the best area for you. This is a process of self discovery so start creating a mind map of ideas, skills and passions until the puzzle is put together and your plan is clear.
What else should I know before becoming an internet nomad?
Unless you already have internet marketing skills the process of learning new digital skills will take time and effort – Digital nomad training for beginners
Success is all about being diligent and committing to the task at hand
Being proactive is an important key, so search out digital resources online (many will be free) – Digital nomad toolkit
Join Facebook or LinkedIn communities that share information and digital nomad skills
Don't believe that you will make money overnight, it may take a few months before you earn a penny
Consider passive income business options because you will earn with the minimum effort
Tell everyone what you are doing, free advertising doesn't hurt
Should I work for someone or run an internet business?
This is a great question because these are totally different methods of making money as well as the freedom factor of working remotely. There is some argument to working for someone if they are happy with you working remotely. However, the negative aspect is that they will expect you to work all the time which is not great news for the remote life of a nomad. If you are running your own digital business you have a massive amount of freedom. This does come with a responsibility to maintain a steady and sustainable income.
This means looking and working with the right type of business that gives you the flexibility and an income passive enough for you to work when you want. This is a risky option, but remote nomads see this as a risk worth taking.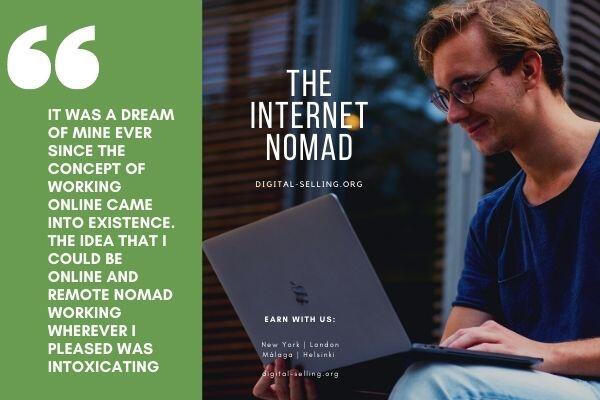 Starting your own internet nomad brand
Most people new to this industry find it difficult to see themselves as a brand, but this has become a very effective strategy. Having a personal brand will give you the edge on the competition and give a face to your business. However, what does branding mean? Your brand identifies you from others and allows your customers to understand what they are getting from you and your business. It could come from how you conduct your business and provide the products and services to the customer. Or the unique style method of sharing your concepts and ideas with your clients. Finally, it's being known for your brand.
How to start your own brand as a remote internet marketer?
Research is the best starting point to finding a profitable brand
I believe that monetizing a passion is a great starting point, but one doesn't necessarily come with the other. Also, great ideas seem great until you realize nobody wants or needs such a product or service. Are you trying to compete with the big boys and found that you cannot even find yourself anywhere on the first five pages of Google? So, start considering what pays the bills and what areas have not been exploited.
The main goal is to find an angel or niche that is small enough that a sole internet marketer can monetize and make bigger,better and the only source in that niche.
Here are some question to ask yourself about building a branded niche:
What do you want your legacy to be?
Why do you believe you are different from others in your niche?
What is your business offering and what is it about?
Are you offering solutions?
What will be your business philosophy? What do you and your business believe in?
Are you offering value for money from your product or service?
These questions will help you fully understand your brand. If you have a personal webpage it is good to lay out your brand and philosophy so the customer knows what you stand for. This means that any prospective customers will know who you are and what brand you commit to from the first few seconds on your page.
To truly be successful in branding you will need to be more creative than you have ever been. This means finding that sweet spot in the market and being better and more interesting than anyone else.
Brainstorming ideas for the internet nomad
Do you want to create a niche landing page or blog?
Do you want to start a turnkey business? More details?
Do you want to work for someone or be a freelancer?
Do you want to run or build an eCommerce business?
Do you want to create a personal brand?
Do you want to go remotely?
None of us really know what we want to do until we start asking these questions when we are brainstorming. However, once the process begins most things come together and we end up seeing a plan come together. Unfortunately, any plan consists of things that need to be done and a list that is never ending. It is possible to get some of the work done for you but if you are short of money it will be you doing the work.
Most of us end up starting a turnkey business as a freelancer because it is the cheapest option. In most cases you can start a turnkey business for as little as 35$ / 20€ / £20 which is accessible to all pockets. Once you have established your business and starting to earn some money many consider adding other income streams to improve sustainability. Once you start your second income stream you can exploit your existing framework and prospects. So, always be on the lookout for additional passion income streams, more so if you are travelling, because creating a secure income will be the key to success.
How do I get started as a digital nomad?
I often get asked this question and it is simply yet different.
Just do it!
Start something, start anything and make mistakes. Join a network marketing business or an affiliate business, because what you don't know now you will know once you get started. Many network marketing companies offer great training programs and mostly free. In addition, expect any type of work from home and while building your warm leads list and network find out what other online remote nomad friends are doing.
In search of customers and clients
Many people tell me that building a network of customers on the internet is so difficult. In fact, this is probably the easiest way to build networks in the 21st century. The best starting point is any social media platform, co working spaces and business and networking events. If you have branded yourself well enough, people will want to speak to you at live events and join your groups on social media.
Often after creating an interesting and informative article on the internet or on a social media platform such as LinkedIn I will receive a lot of messages asking for more details about what I am doing and how they can participate. These types of relationships often bear fruit via skill sharing, work and even prospect sharing. Information is power and so you are looking to be known for your skill set on the internet stage. The more your digital skills are valued and needed the more people will begin to see you as a leader and a person worth getting to know.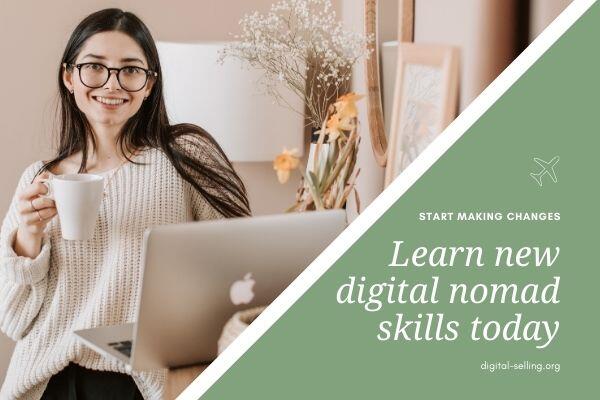 Where is the best place to live as a remote nomad?
The places where I have personally had great experiences and are affordable is in Southern Europe, however I have found some of the Nordic countries worth considering if you stay out of the capital areas. Remember being a virtual nomad is not 100% about the money, but the experience and the relationships you will have while you are travelling. The advantages of Southern European countries such as Spain is that they are very affordable and have a large population of English speakers. The Negative aspect is that the internet speeds are not the fastest in the world. As for the Nordic countries such as Finland, they have super fast download speeds almost everywhere, but the price of alcohol is very high.
So, choosing where you want to live in the world is going to be a compromise. If you don't mind living in a shack with low internet speeds as long as it is cheap there are many places to choose from, but you may get sick of trying to get online. So, picking the right place is going to be the key to being a successful digital nomad.
Top tips on where to live
I would not expect someone to jump on a plane and start living as a remote internet marketer overnight without even having a business somewhat established. At the same time nobody knows what the real expenditures are even in a cheaper country. So, consider having enough savings with you and at the start be a bit frugal. Countries that I would suggest as a starting point are Bali, Chiang Mai or Eastern Europe and even Spain. However, as a check list of other countries consider these three must haves:
A reasonable low cost of living, mainly food and accommodation
High speed and reliable WIFI / Internet
A great working and networking environment
I am unsure if being an internet nomad is for me?
For many the idea of becoming an entrepreneur or digital nomad seems like a dream or a slightly unsafe experience, but this is not a project that should be taken lightly. Most people interested in this type of lifestyle are simply unsure what they want to do and are seeking advice on where to start. After brainstorming, reflect on your answers and quite quickly you will see what type of internet marketer you want to be. However, if you want some business ideas and legitimate business opportunities to consider click on the learn more button below:
How to make money as an internet nomad?
I am a bit prejudiced. I love sitting in a beach side cafe and writing some new content. However, in the early days of my career I made mistakes and big one. Fortunately, I had other remote skills I could rely on and friends and family that got me out of trouble. It was a lesson I learnt really fast. The lesson is to have enough money when the plan does not come together. Good money management will be an important factor for living the digital nomad dream, but also seeking an affordable place to live and not wasting money on things that are not vital for your success.
In the early days you will have to work more than you will earn. However, once you have achieved your goals and level of commitment you will gain a good income level and afford to upgrade to a nicer place to live. The main goal is to create a passive income where you are working less and earning more.
As a benchmark for someone new to internet marketing, it should take about 3 to 6 month to start earning anything. However, this is going to depend on how much time, effect and investment you are willing and able to put into your business. In reality, if you are working part-time, I would suggest 12 month before you see an income that I would consider as sustainable. At the same time I have had friends that have been earning within the month, but they already have some knowledge of the industry and work very hard from day one.
Four great reads about the digital nomad lifestyle
What should I do now, if I am interested in the digital nomad lifestyle?
If you have reached the bottom of this page you really do what to try something new.
So, take a chance and reach out to me and we can have a chat on how you can start earning online. I am guessing your goal would be becoming an internet marketer travelling or settling into a remote lifestyle, rather than the one you are living at the moment.
For more information about being a internet nomad or anything else on this page click on the learn more button below and we will get back to you asap