Million leads for free is a free site where you can get opt-in and get daily free business lead lists 5000 strong for your online and business opportunities
This program by Joe Hu (of Peer 1 Network out of New York, NY) was first started in April 2008 and currently has about 2 million members. This program states that you will be sending your ads to responsive members who have shown an interest in online opportunities within the past 72 hours. So, you know I have been using this platform since 2015 and it is worth the 10 minutes a day to read and share your latest email.
Detailed Overview of Million Leads for Free
Here's your chance to get 1 Million Double-Opted In, Daily Verified Leads For FREE.
This is a very simple program to join and to use. You simply give basic information (name and email address), then you are sent a confirmation email. Pick a username and password and you are ready to go. There is a tutorial to help you out, but the site is pretty much self-explanatory.
Every member can post to a minimum of 5,000 leads per day. The free leads list is confirmed and verified. To be able to do this, the member only needs to go to their inbox and open 10 adverts. Once you have finished this, your free business lead lists will be available to you. You can also post to your referrals and downline.
In addition to those 5,000 leads you can get additional leads by referring members. For every 3 referrals you are given an additional 100 leads a day that you can post to. Or, if you don't like referring you can pay $2 a month to receive an additional 100 leads everyday. You can also get an additional 5,000 bonus contacts by looking at 10 more ads everyday, or you can pay $20 per month for the extras.
Once you have accumulated all the leads that you want for that day, all you need to do is click the post ad link. You will get a window where you can write your ad (email style) either in text or html form. I used the html to see if I could put my splashpage on there, and it worked perfectly. So, you don't have to limit yourself to just a boring text ad that they may or may not get read.
A new item on this program is a sponsored offer. A sponsored offer allows the member to gain more leverage by clicking on any message that has a red banner say, "This is a sponsored offer". When you visit the link of the message you can earn up to 10 Reward Points/Page Ranking. The theory is, the higher the page ranking means your own post gets to be placed near the front few pages. This means more Impression/Visits/Clicks.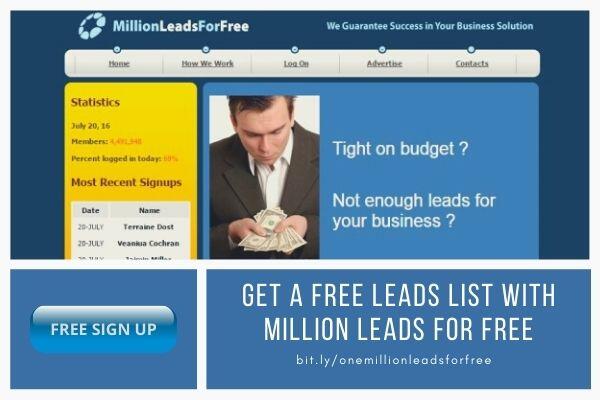 Statistical analysis of using this system
From a recent post statistical analysis the result a very good, because according to Google Adwords Benchmark Data, the average click through rate is 1.91%, while my latest advert got a click through rate 11.88%.
Million Leads For Free Reputation
People are using this program to promote their business opportunities. I could find no negative comments, but I also could not find any statistics on how well it works. But, for the 5 minutes it takes you to look at those 10 ads, and the 2 minutes it takes you to send your own ad out even if you only got one nibble a week it would be well worth it.
To get your Million Leads For Free straight away click on the "Free Sign up" button below