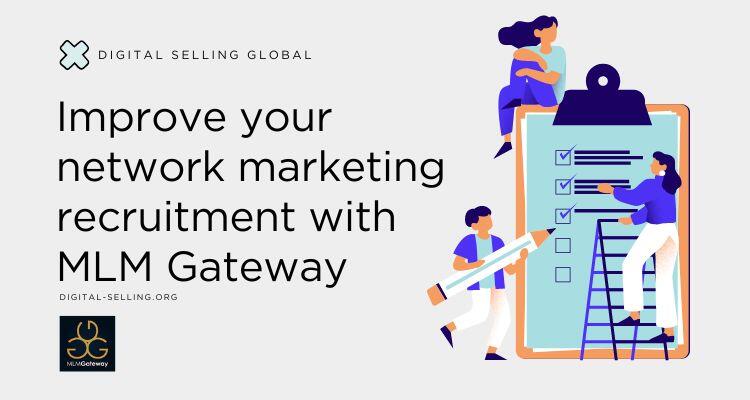 Increasing profits in a business is an important aspect of any organization, so it is important to find inventive ways to sell our products and recruit more people, but is MLM Gateway the best forum?
If you haven't heard of MLM Gateway it might be a good idea to find out more. In my opinion, for the network marketer it is a platform worth joining. This portal helps connect MLM professionals with other network marketers all over the globe. In addition to allowing like minded people to freely reach out to each other there are also other tools which will expand your business.
The best thing about this platform is that it is 100% FREE with the possibility of earning a commission.
Why should you join MLM Gateway?
If you enjoy the idea of running your own business and being financially free it is likely you became attracted to network marketing. Yes, we have all been there. We have all had the excitement of joining our first MLM business with dreams of being rich by next Friday.
In most cases what happens is we tried speaking to our very unresponsive social circle. They told us they were not interested but thought our products were interesting or worth buying or just hated them. Overtime we may have found a good customer base. However, we still understood that MLM recruitment was going to be the key to our success.
With MLM Gateway you will be able to contact real people who are as excited as you are about network marketing.
The type of people that are on this platform are:
Those who may already have a business but are looking for a second stream income.
Those who are unhappy with their existing business and looking for something new.
Those who are happy with what they have but are willing to share their knowledge with others.
Those who have joined this platform simply to find a partner like you.
How will this platform help with your network marketing recruitment?
Did you know that there are over 300000+ targeted MLM leads on this platform?
Having that many network marketers on one platform makes it a hotpot of ideas,information and recruitment. It is also a great place to build those important relationships just like on Facebook. This makes it one of the most effective recruiting methods online. This is because you are able to promote your business opportunity without needing to explain what network marketing is and if it's a scam or not.
Other marketing tools available are:
The possibility of advertising your product or company.
The possibility to publish unique content that ranks highly on all the search engines.
The possibility to be apart of the affiliate program. This allows members to make money while using the platform.
Taking business to the next level – Upgrading to premium
Even though the free account will be adequate for many of you there is a possibility to upgrade to a premium membership. If you already have a developing business, but it's running too slowly for you, the upgrade may be useful. It will give you maximum exposure and seriously take your business to the next level. The ability to generate more leads, connect with more people and drive more traffic towards your business is a powerful toolbox.
Increasing profits in a business list by upraging to premium
Get an additional 50 credits added to your account every month: Credits are the currency used on this platform. It will allow you to contact prospects, create an ad campaign or drive traffic to your business. So, getting an extra 50 credits a month will have a massive impact on how many people you recruit into your business.
The ability to contact members who expressed an interest in joining your business: As a part of the free membership you need to spend your hard earned credits to unlock leads. The premium membership allows you to contact these members for FREE and an unlimited amount of times.
Get a premium badge in your profile: Having a premium badge on your profile will attract more prospects to your business. This is because most members prefer to work with leaders. They feel are more serious and knowledgeable about their business opportunity. The premium badge is seen as a badge of success.
Premium members lead capture landing pages: An unprofessional landing page is simply unprofessional. It shows to your prospects that you are not a professional and maybe not the right person to partner with. Premium members get professionally designed lead capture landing pages that help drive leads onto your mailing list rather than anyone else.
MLM recruiting secrets and training: Training and education is vital if you want to take your business to the next level. Premium members get the opportunity to access premium training. This training will improve your marketing skills and knowledge, consequently making you more money.
Premium members feature page: Being a premium member has its perks such as having your profile featured. This is a great way to personally branding yourself and sharing your business. This is also a great place to share your social media account and website and blogs.
Share more website links on your profile: The free account does allow you to share some social media platforms but not websites. So, if you have a website or blog you would like to share on a high ranking platform upgrading to premium is the way to go.
Share a video on your profile: We all know the power of the YouTube video. It is probably the best recruitment tool online. This is because it allows you to present your business opportunity fast. So, having a video in your profile will be a powerful way to present you as well as your business.
Premium membership means being visible to everyone: The free membership has a limit to what prospects can see, the premium membership changes that so you become a more effective network marketer.
No unwanted advertisements: It is so annoying if while someone is reading your profile or article they click on a ad and join someone else's business opportunity. The premium membership makes you the priority so the readers can focus on you and your business alone.
Profile MLM profit statistics: One of my best web tools I use is my statcounter. Knowing how many people are viewing your website or blog is vital for success. So, having the same information for your profile is very powerful. Profile statistics allows you to review who has been viewing your profile and decide whether they are worth the effort of contacting or not. This will help you create a more effective MLM recruiting system and strategy.
Get far more credits: As I mentioned, credits are currency on this platform. In addition to the 50 credits a month for having the premium membership you can also get additional credits. You can earn extra credits by referring new members (Premium member 15 credits / Free member 10 credits) or by creating a unique article (Premium member 10 credits / Free member 5 credits). More credits means that you can contact leads and build your business faster.
Support 24 hours a day: As a premium member you are important and so the MLM Gateway support team will help and support your business 24 / 7.
Conclusion
Deciding if you need the premium or the free membership is going to be down to how serious and committed you are with your business. However, if you are fed up with bothering your family and friends and want to start a serious network marketing recruitment strategy. I would suggest getting the free membership and upgrading once you have an idea how everything works.
This is a game changing platform if you are willing to put in the time and effort in making it work for you. No other portal has the tools and like minded prospects to help you to become successful in your MLM business.
The question you need to ask yourself is, if you are struggling finding leads at the moment.
What is your future recruitment strategy if it is not with MLM Gateway?
For more details about gaining more MLM business opportunity leads click on the "Learn More" button below.